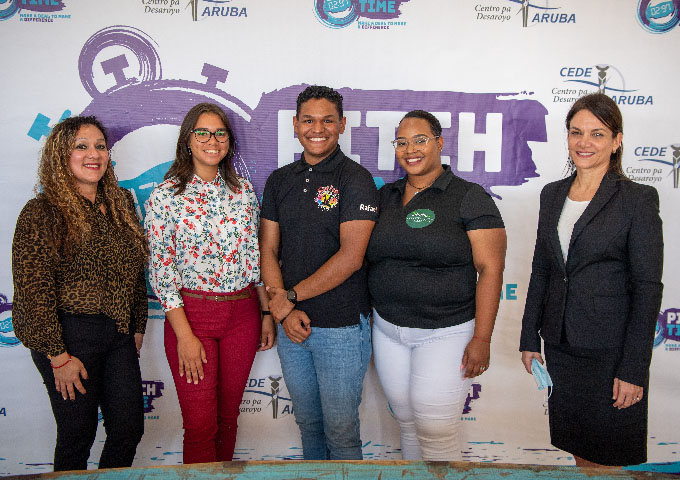 Aruba Bank makes a difference among youth through CEDE Aruba's PITCH TIME project 2021
Aruba Bank N.V. on Tue, 12 Oct 2021 11:59:12 GMT
Aruba Bank is once more supporting CEDE's (Centro pa Desaroyo di Aruba) PITCH TIME project. The project is a youth participation program where leadership, voluntary commitment, and project-based approach of young people are of prime importance.
For a minimum period of three (3) months, PITCH TIME creates a valuable connection between youth (15-23 years) and local NGOs in Aruba. The young people, together with NGOs, implement projects that are largely sponsored by the business community. In this way, cooperation is encouraged between young people, NGOs, and the business community.
From September to December 2021 Aruba Bank will lead the following three (3) projects:
Parke Famia at Tanki Leendert – a project designed to renovate the Parke Famia to bring youth and their families together in a family-oriented atmosphere and build a Greenhouse where the students can learn a little bit more about our nature and agriculture.
Step It Up - a project based on the subject of "Culturele en Kunstzinnige Vorming (CKV)", which focuses on the expression of art through dance. This will offer students a variety of classes that focus on health and the importance of socializing by organizing a dance competition at local schools to raise funds to support the students with the materials needed for the "CKV" courses.
Wizz 'Ucation - a project that offers help with online math classes in Papiamento and the possibility of following these twice a week. This project also helps students who do not have a laptop/computer at home by offering classes at school. The goal of the project is to create awareness, educate the students' knowledge in the wonderful world of math.
Aruba Bank congratulates the team leaders: Giandra Erasmus, Abigail Lugo, and Rafael Garcia, and the entire team at CEDE Aruba for their effort and hard work.