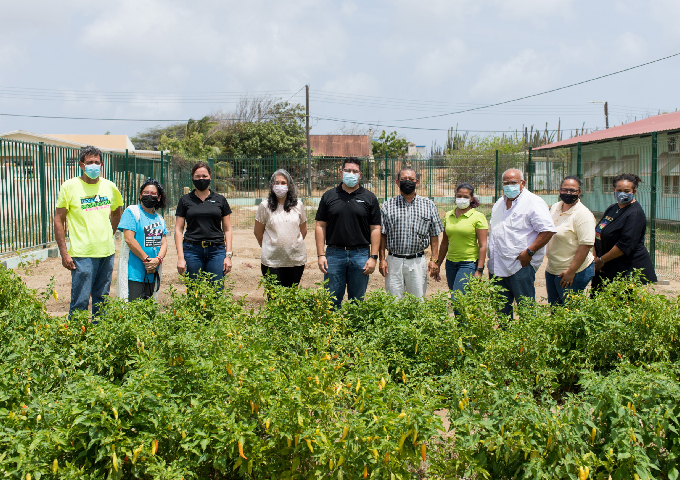 Aruba Bank's G4N provided a platform for SPO School's Horticulture Project
Aruba Bank N.V. on Fri, 18 June 2021 09:03:12 GMT


The winners of the Good4theNeighbourhood - School Edition in 2014, with the Green House project, as well as third place winners in the 2015 "G4N -he 'video project'" recently officially inaugurated their school's Horticulture Project, which enables the students to maintain the Greenhouse by using recycled water while keeping the costs low for the school.
A section in the school's garden has been dedicated to the Horticulture Project, where the students learn how to cultivate and care for plants, including spices, peanuts, and beans. This effort in Horticulture has also become a part of the school curriculum.
During the inauguration of the project, the school honored the representatives of Aruba Bank, Kenneth Tromp, who guided the Green House Project, and Roxanne Kock-Croes, coordinator of the G4N project. Mrs. Zoraida Godoy, Principal of the SPO School, thanked Aruba Bank for helping the school achieve this milestone. Aruba Bank's project is an educational initiative that introduces teens of all socio-economic backgrounds and neighborhoods to Entrepreneurship and teaches them how to start, own, and operate their own business.
Aruba Bank is happy to have contributed to this amazing project and to have provided the opportunity for the students of the SPO school. Pabien!